Other - insurance, moving, trade agency, staffing
At our company, even when the task is not related to distribution, we aim to support you as partners in your business and everyday life through a variety of operations.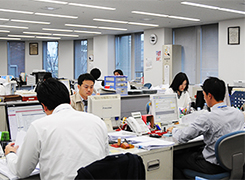 At our company, we conduct insurance agent, moving, import and export, worker dispatching, and other services aside from our main transportation business. We will introduce all our company services apart from our shipping cargo services on this page.
Insurance
In addition to accident insurance, which is vital for the transportation of cargo, the insurance agency offers a wide range of insurance policies, including automobile insurance, damage insurance, whole life insurance, educational endowment insurance. Insurance is what you can rely on in those 'what if...' situations. You can also discuss your insurance options with us to ensure you get the service that best suits you.
Moving / Relocation
When you are in the process of moving, we will offer you our assistance and the use of our company's trucks. We provide for a wide range of moving needs, from office relocation to personal home relocation.
Trading Act
With our trade agent services, you can trade with our company's extensive overseas network and 20 local subsidiaries on your side.
Worker Dispatch
We offer worker dispatch, which is temporary employee placement centered on our company and its associated companies. There are currently people over the age of 65 working for out temporary staffing agency.
We help you to work in a style that suits your lifestyle.
Real estate
For real estate business operations, our firm owns and operates lease offices and apartments for rent in Kobe and Osaka, where we are working hard toward the goal of creating a prosperous community.
Real estate list