Our Approach to Environment
With the environment always in mind, we challenge ourselves every day to bring you the most comfortable and safe transportation service.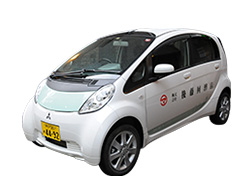 According to the Ministry of Land, Infrastructure, Transport and Tourism, the amount of carbon dioxide emissions in Japan which come from transportation account for 17.1%. To do that, and as part of our environmental preservation efforts, we think coexisting with the regional community is also our duty, as it is affected by the transportation industry.
On the one hand, we want to lower the burden of the price for customers as much as possible to use our environmentally friendly transportation.
Regarding our CSV efforts for the environment, we put the customer at ease, taking corporate social responsibility and offering various kinds of reliable transportation methods while taking novel initiatives to prevent the worsening of the environment from issues such as pollution or global warming. Utilizing transportation methods which are kind to the environment, we reversely lower costs by using our networking to create unique proposals for each individual.
Also, customers in the environmental business such as solar energy have our coordinated distribution advantage, in which we cover the transportation of large objects such as solar panels or other special cargo.
An introduction to our initiatives
Experimental use of electric cars for business.
Transportation of large objects is also a specialty of our company. We safely transport difficult to ship equipment such as large solar panels to their destination, making use of sea routes as well as our special packaging techniques. We help expand the use of sustainable energy throughout the country through transportation.
Also, besides transportation, our company proactively makes careful electricity inspections, implements warm biz, cool biz, and other eco-friendly measures inside the company, and makes experimental use of electric cars for business, which don't emit dangerous compounds to the human body such as CO2 and nitrogen oxide (NOx).
Solar power system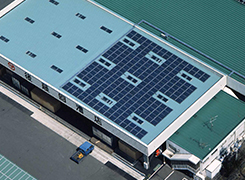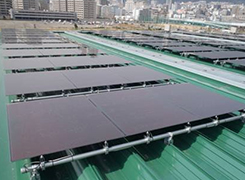 Making use of rail transport and empty containers
Currently, the main means of transportation in Japan are trucks, but by partly using rail transport instead, we can cut CO2 emissions by about 1/9th, and curb energy usage by about 1/5th. It is said that CO2 emissions can be cut by about 1/5th by using sea routes instead of trucks and energy use can be reduced by about 1/4th.
Transportation which doesn't harm the environment has become important in recent years, but on the other hand we think that there may be times when it's difficult to prioritize due to cost and time issues for the customer. Rail transport is connected with cargo stations, so it's essential that the trucks are bound to moving "from the departure place to the cargo station" and "from the cargo station to the destination." This can also produce a problem with the time of delivery. Because we have our own trucks at our company and group company, we can deliver all of your items to the destination flexibly and kindly, reducing time and trouble for customers.
Also, for container shipment, we skillfully arrange and use empty containers from the neighborhood, reducing CO2 emissions and cutting energy use. Furthermore, we adjust customer's transportation by offering low priced transportation with empty containers.
We investigate each and every problem and give customized transportation methods to each customer. We always bear in mind the effects on the environment when choosing a low cost transportation method for customers.