Our Approach to Safety
Our company pays close attention to our customers' voices and the needs of society, based on its CSV management; and works to improve its services so as to bring customers even further safe and secure transport.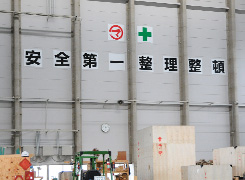 As a company in the shipping business, we consider it our mission to make sure that our customers' important packages arrive safely at their destinations throughout the world at the promised time. In particular, our company, which specializes in handling large cargo, we are well aware that any accidents could endanger lives, delay transport, and damage a customer's valuable goods.
Additionally, for clearing customs, as it is a precautionary step to make sure that no harmful packages entry the country, we keep our customers in mind and carry out the process for you, so that you do not incur any customs charge.
At our company, in the whole process of transport, packaging, storage, and clearing customs, besides our in-house system to ensure safe and secure transport of your packages, we regularly conduct in-house training and internal improvement all the way from top management to out in the field. We are committed to making sure your deliveries are safe by building a safety management system.
From safety patrols in the morning, to our in-house customs officers, to our qualified packing staff, we actively support those who earn qualifications in all of these areas. In the worst case, if an accident does occur, we will form a committee to thoroughly investigate how it happened.
"Talk to Goto Kaisoten about your shipping needs, they will handle everything." We aim for customers to gladly trust us in that way, and so we strive for safe and secure shipping services daily and steadily.
Introduction of a measure
For safe and secure management of Goto Kaisoten, naturally we strive every day to make sure that no unexpected accidents or problems occur in daily transport. On top of that, we constantly improve ourselves not just from the top-down, but take into account the voices at each site and aim to safely transport our customers' packages with daily improvement. However, in the worst case, if an accident does occur, we actively pursue the cause, form a committee to work on improvement, and carry out through management on-site to make sure that the same accident never happens again.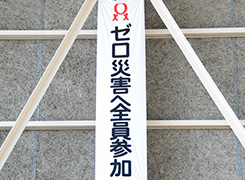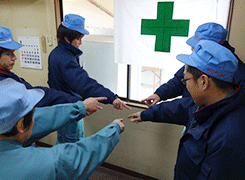 Safe and secure management of packaging and storage
In order to avoid any accidents in our packaging and storage business, as we deal with cargo coming in every day and operating large cranes and forklifts used for heavy cargo, every morning we conduct a safety patrol, share cargo information in a daily news brief, and share points to watch out for.
Aside from those, in our packaging and shipping business, we encourage our employees to get certified as packaging management specialists, and we put every effort into making sure your goods are packaged with the latest in care, so that your goods do not arrive damaged or broken. Also, for abnormally-shaped cargo, we pack these goods ideally according to their shape with as little waste as possible, and make sure that the cargo arrives safely at its destination.
Safe and secure management of customs clearance
For customs clearance, along with our promotion to have every one of our staff be certified as customs officers, in 2008 our company was authorized as an AEO, recognized by the Kobe Customs Authorities as a business with excellent adherence to compliance.
AEO began as an initiative started by the United States in the wake of the 9/11 terror attacks in 2001, and is a system developed for every country with policies that ensure the safety and smoothness of international trade. We are able to provide even smoother customs clearance support after receiving AEO authentication. Also, because international freight has become even smoother in recent years, the AEO operators are promoting a 'mutual recognition system' to better facilitate trade. The role of AEOs is set to become even more important in years to come.
At our company, from among the AEO target businesses we have the certifications 'Customs Broker' and 'Warehouseman'. As of late, for writing invoices for re-examination for goods after delivery and for dangerous packages, we use a system that allows for immediate permission upon arrival. Many of our customers come to us asking for procedures on applying for instant import or customs pre-clearance.
As specialists in customs clearance, when any goods are exported, we take responsibility and thoroughly manage the process so that no unnecessary back taxes are applied, and to avoid any missteps in the process.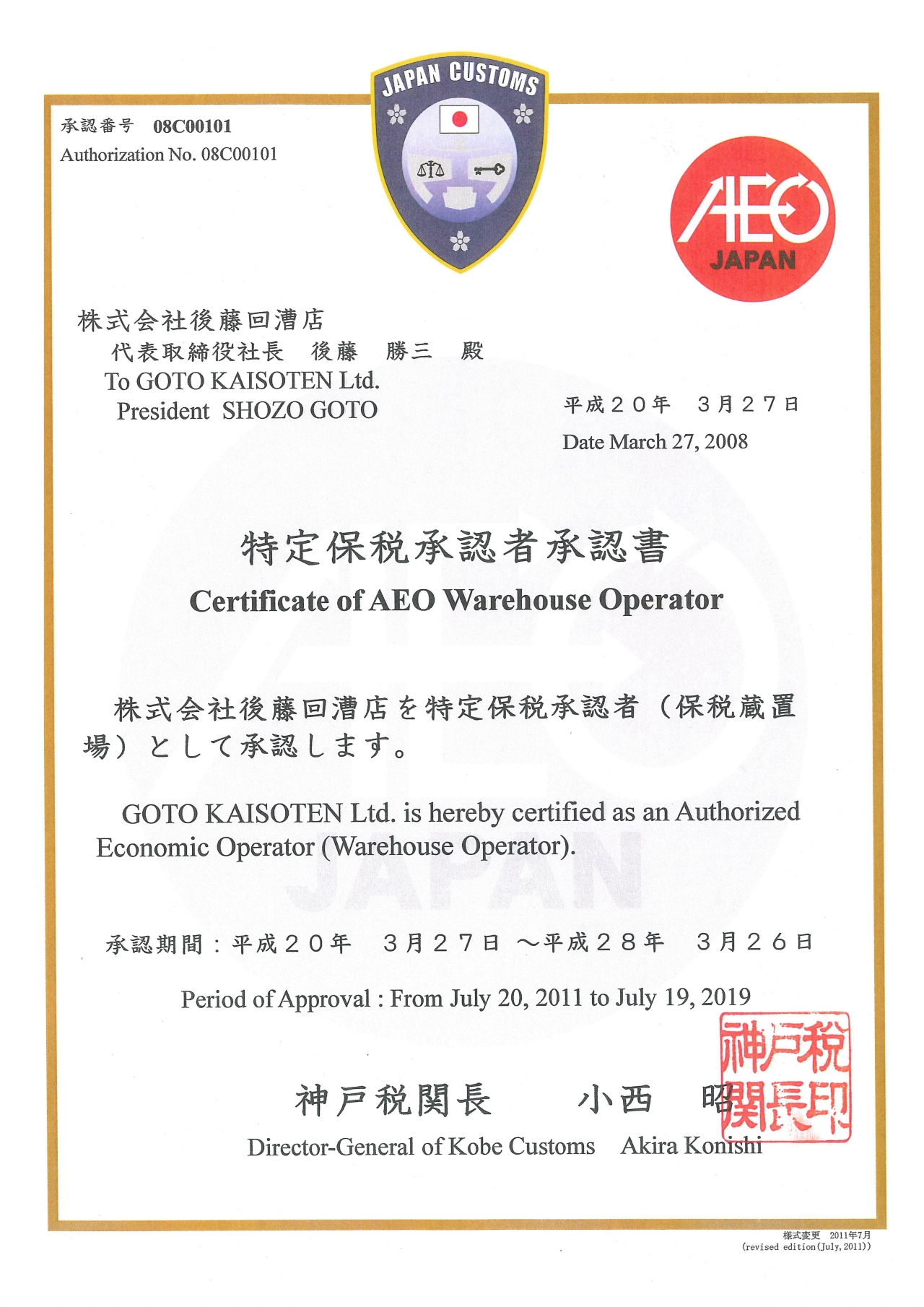 Specific in bond acknowledger
certificate of approval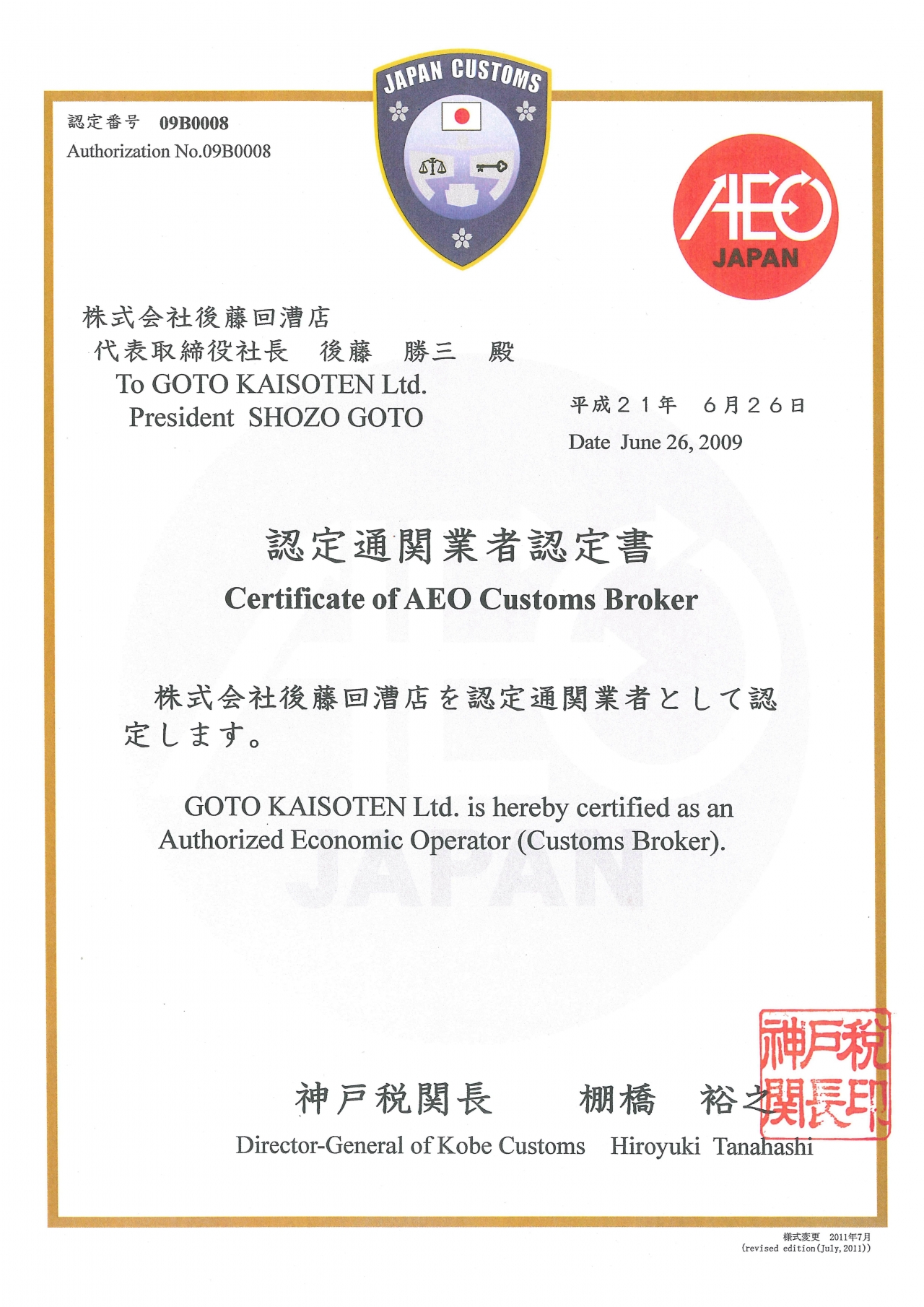 Authorization customs broker
letter of authorization
Safe and secure management of transport
Also, for transport by truck, we do not rely on another company to provide trucks, but we keep our own company and group-wide fleet of trucks. They are all linked up to our management system, so we can accurately grasp the situation of each vehicle and manage appropriately.
We also thoroughly check our driver's conditions and if they have consumed any alcohol, and we comply with all laws and regulations concerning long-distance transport. Because the shipping status is immediately shared with our system, we have accurate package tracking, so you can always know "where the package is" or "when is the package expected to arrive". Aside from those, if you get into traffic accidents or train delays, we can respond swiftly.
Also, by using this system, our company can respond to urgent needs with our trucks, so we can respond flexibly as much as possible.
At our company, we have prepared staff with specialized knowledge of the entire shipping process, from transport, packaging, and storage, to customs clearance. Along with providing customers with a safe and secure transport service, we use our extensive knowhow to serve customers with extra service according to their wishes.