Social Contribution Activities
Based on CSV, we at Goto Kaisoten are constantly striving to improve services to ensure that our customers continue to have a high level of satisfaction.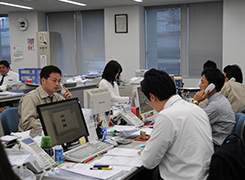 Our company does not only tackle environmental issues and the security/safety of transportation, in our corporate activities we also implement social values through actively carrying out activities aimed at CSV (Creating Shared Value.)
In addition to tackling environmental issues, and security/safety, we also employ older workers after retirement, and transport materials for plant construction through ODA (Official Development Assistance).
Introduction to our activities
The training of employees and the employment of older workers
In the field of social contribution, Goto Kaisoten carries out many active, unconventional business activities based on CSV (Creating Shared Value.)
Even amongst all this our company also puts a lot of effort into educating our employees by carrying out various training sessions every year. As experts in a wide variety of areas, including, but not limited to, transportation, packaging, storage, and customs clearance, we work actively to expand the knowledge of each employee and for them to acquire qualifications. We believe our corporation's greatest assets are our employees' experience and knowhow. Handling forklifts and cranes etc., that require skilled operating techniques is a requirement for our company's transportation services and we strive to improve our services and train successors through actively employing older people after retirement. Furthermore, in regards to other employees, as operators representative of the company they work actively within a reasonable extent.
At Toko Shoji Co., Ltd corporate affiliates, we provide dispatch employment opportunities to seniors over 65 years old as well. In regard to our employment of older workers, our older workers pass on their high level of skill for secure and safe transportation, cultivated over many years, to the younger workers, ensuring that these skills stay in the company. In this sense they are significant to us, and so we intend to continue employing these older workers.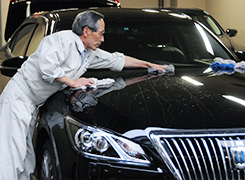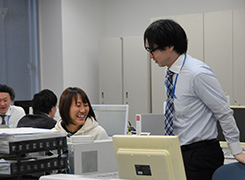 From "Japan's Maruma" to "The World's Maruma" in plant exporting
Furthermore, in regard to our international transportation work, in 1957, while domestic transportation was shrinking, we became the first company to begin exporting plants, and have now been providing this service for around 50 years. In particular, when the thermal power plant was constructed in Dehli, India, in 1951, we undertook all of the local transportation ourselves.
When transporting large-scale, or special cargo, it is extremely difficult to find a reliable cooperative enterprise, and securing a transportation route is a large problem. Through carrying out long-term local stays and collaborating with distinguished local vendors, we were able to realize the entire intermodal transportation of a plant, including the transportation and on-site work.
Since 1957 our company has been building a track record of transporting brand goods from Northern Europe, to Asia; and North/South America, and the Middle East, to Africa; transitioning from "Japan's Maruma" to "The World's Maruma", and implementing comprehensive batch transportation in cooperation with local associated companies.
At present, we have our overseas large-scale transportation performance evaluated, and by taking on the transport of materials for plant building in developing countries we are able to undertake ODA (Official Development Assistance) collaborative activities in countries all over the world.
In order to realize free transportation all around the world, and active transportation from overseas (excluding Japan) to other overseas locations, we have established local subsidiaries all around the world, and are continuing to strive to collaborate even further with distinguished vendors in each area.
Construction of an information system that makes detailed support possible
From 1980 we built an information system and carried out centralized management of our operations, business, customs clearances, warehouse cargo management, business ledgers, financial management, etc., and expanded our customer services. In order to optimize our work we adopted an information system, which also made it possible for us to be even more attentive to our customers' wishes.
In addition, our company uses our truck transportation to actively provide support during natural disastors. When the Tōhoku earthquake and tsunami occurred in 2011 our trucks supplied the victims with goods in short supply, including blankets, masks, and mineral water. We strive to provide continuous and complete logistic support in times of emergencies.
The services of transport industry are an indispensible part of social infrastructure.
As well as taking great care, as a general distributer, to securely transport our customers' important cargo anywhere in the world within a fixed time frame; our company is also committed to actively creating CSV with a flexible approach, and to meeting our customers' needs and solving their problems.