Our Commitment to the Community
We strive to make our business a force for good—for our clients and for our communities—by creating shared value.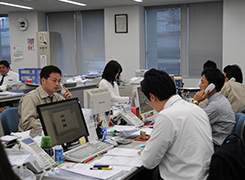 Through a broad variety of means, including meaningful jobs for people after retirement and shipping materials for clients building plants in developing countries under the OECD's Official Development Assistance program, we seek to leverage our business strengths to make the world a better place.
CSV Initiatives
Education and Post-Retirement Work
One of our main CSV activities is offering educational programs to employees. Every year, we hold a variety of training sessions to broaden employees' expertise and encourage them to obtain professional qualifications. In doing so, these events, conducted by experts in fields like transportation, packing, storage, and customs clearance, benefit the company as well as individual employees by broadening our knowledge base. For instance, forklifts and cranes take skill and experience to operate well, so by employing experienced operators as tutors beyond retirement age (to the extent they desire to work), we retain their expertise, they have meaningful work, and younger employees have appropriate mentors—everybody wins.
One example of this system is Toko Shoji, a Goto Group company that employs a number of over-65s. Collectively, thy possess several lifetimes of valuable knowledge and skills regarding transportation safety, and today their role is to ensure those are passed down to subsequent generations of employees.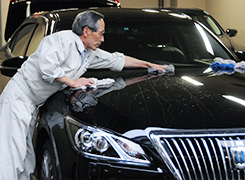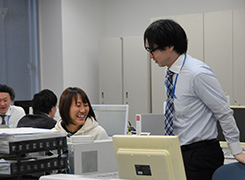 Using Our Capabilities to Help Developing Nations
We were among the first Japanese transportation operators to expand overseas, and have been transporting industrial plants globally since 1957. Having first accomplished door-to-door transportation of industrial plants in 1961 when we carried a facility to Delhi, we are the leaders in international carriage of outsized and specialty cargo.
Nowadays, we are proud to leverage those strengths for the benefit of the world at large by transporting the equipment and materials used to build plants in developing countries as part of the ODA program.
In this way, and in many others, we endeavor to make our business a vehicle to benefit the world.
A Vital Infrastructure Becomes a Lifeline in Emergency Situations
Transportation is a vital infrastructure, and its importance becomes clearest in natural disasters and other emergency situations—more so when effective fleet management enables quicker response.
In the wake of the Great East Japan Earthquake and tsunami in March 2011, our fleets of trucks were put to immediate use transporting blankets, masks, water, and other emergency goods from around Japan to the devastated areas. In doing so, our fleet management system, which enables real-time tracking of our whole fleet, meant we could locate and deploy the closest trucks and shave precious minutes off journey times.
We are highly conscious of the role transportation companies play in emergencies, and we are ready to answer the call when it comes.